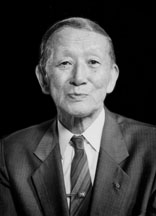 Dr. Suzuki, a Japanese violinist and humanitarian philosopher developed the Suzuki method. Dr. Suzuki believed that all children have the ability to play an instrument beautifully given the proper environment. Since 1979, the Burlington Suzuki Association has seen this theory proven over and over again.
The Suzuki Method of Teaching is unique in four ways.
1. Parent Involvement
One parent attends every lesson, takes notes and is actively involved with the practice sessions at home. The help, encouragement and love from a parent makes the learning process more effective and positive than if the child is left to practice alone.
2. Daily Listening
All children learn to speak their native language simply by hearing it spoken to them over and over again. This simple act of learning through repetitive listening has been applied to the Suzuki method of teaching. Each Suzuki Book has an accompanying CD or tape. Daily listening of these recordings helps develop a good musical ear, which in turn, simplifies the learning process of each piece. Reading is introduced when the child is technically ready and handles the instrument well.
3. Bi-weekly Group Lessons
Group lessons are fun and provide your child with the opportunity to meet and socialize with other children in the program. Children learn aspects of theory and practice their skills together. In group lessons children are encouraged to play music together in preparation for future orchestra opportunities.
4. Performing Opportunities
The Suzuki program offers a great number of opportunities for the students to perform. Our annual Halloween and Christmas concerts are very relaxed with a party afterwards. Once a year, each student performs a formal 'solo' allowing him or her to proudly demonstrate the results of their hard work.Performing regularly is a key element of the Suzuki method and is a crucial part of learning any performing art. (Dr. Suzuki suggested that his students give informal home performances for the non-practicing parent once or twice a week; not only for the student to practice performing but to get other family members involved and show their enthusiasm for the child's progress).The children also perform at various places and events such as Indigo, Burlington Mall, Mapleview Mall, Spencer Smith Park, LaSalle Park, Burlington Music Festival and more